Observing Environmental Change from Space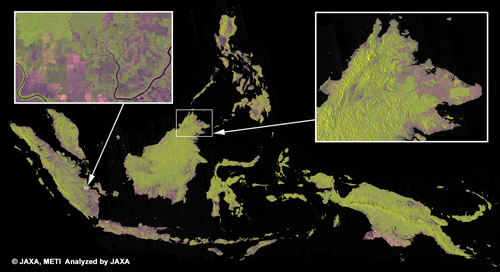 Advanced Land Observing Satellite (ALOS), JAXA

This image shows Sout-East Asia (Sumatra, Borneo and more). Greenish color shows a forest and purple color shows deforest or not a forest area.
The ALOS Kyoto & Carbon Initiative
is an international collaborative project led by JAXA Earth Observation Research Center (EORC). It forms the continuation of JAXA's JERS-1 SAR Global Rain Forest and Global Boreal Forest Mapping project (GRFM/GBFM) into the era of the Advanced Land Observation Satellite (ALOS).
The ALOS K & C Initiative is set out to support explicit and implicit data and information needs raised by international environmental Conventions, Carbon Cycle Science and Conservation of the environment
The main purpose of the ALOS Kyoto and Carbon initiatives are to interpret the forest originated carbon quantity and its changes, and monitors the global land changes for forest, wetland, and desert area. By using the
Kyoto & Carbon Mosaic site
, the current earth environmetal change can be observed.
WOW - & - WOWSumatra)