Fireworks
The universe is one giant hall of fireworks with
Big Bang as the mother of all fireworks.
Artwork by Adolf Schaller for STScI
This is an artist's concept of the onset of stellar light. We are not sure if it started directly as stars or quasars. Read more about it here.
When celebrating the New Year, the very International Year of Astronomy 2009, we need not go outside the theme of the year. We find all the fireworks we want right out there in the universe itself.
There are numerous phenomena that qualify as celestial fireworks; quasars, colliding galaxies, supernovae, solar eruptions and much more.
First Light
Credit: Credit: NASA/JPL-Caltech/A. Kashlinsky (GSFC)
This background light stam from the universe's very first groups of objects. We do not know if those object were huge stars or quasars. Learn more reading The Universe's First Firework and Brief history of the universe.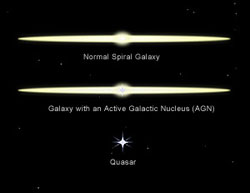 Credit: NASA/CXC/M.Weiss
Quasars are peculiar astronomical objects that radiate as much energy per second as a thousand or more galaxies, from a region that has a diameter about one millionth that of the host galaxy. On the illustration above you see a comparison between a galaxy, an active galaxy and a quasar. Note that it is NOT a star! Click on images for more intel.
I'm deeply intrigued by quasars, exotic and still mostly mysterious as they remain even today. However remote and little understood , the quasars play a pivotal role in our daily lives here on Earth. I'll return to these feisty firery objects and why they play a major role in your life later, I promise.
Galaxies of Fireworks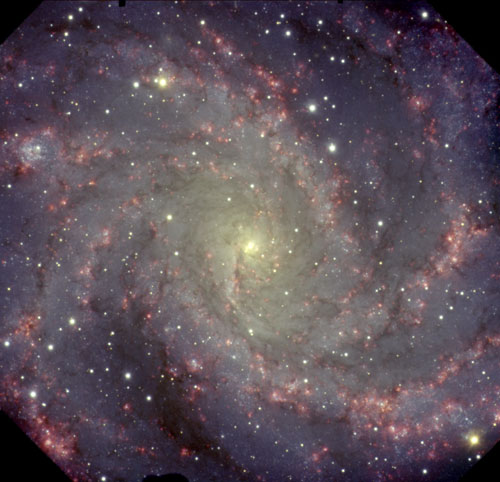 Credit: Gemini Observatory /Travis Rector, University of Alaska Anchorage
The Fireworks Galaxy
Firstly though, I'd like to properly kick off the
International Year of Astronomy
here on
PlanetBye
. I've put together a celebrating selection of celestial fireworks starting with the Fireworks galaxy(image above). Yes, we have named a whole galaxy Fireworks, but there are other galactic feasts making this a hell of a party. We have of course different kind of pinwheels;
two Pinwheels
actually and a Cartwheel for starters.
Credit: NASA/Caltech
The Pinwheel Galaxy seen in infrared.
Credit: ESA
Runaway galaxy (UGC 10214) - happens all the time when you deal with fireworks...
A proper celebration lasts at least three days to an end and contains a lot of bubbly champagne. I am most certainly a champagne girl so I have taken a close look at the heavens and found both champagne and plentyfold of bubbles for you to enjoy the next few days to come.
Credit: NASA/JPL-Caltech/P. N. Appleton (SSC-Caltech)
The Cartwheel Galaxy
Happy New Year!
Have some
champagne
with plenty of bubbles, and add a grande finale of bubbles to that!