007 reads the gospel of Christmas at the Trinity Church in Oslo, Norway.
What have James Bond and my niece, the talented violinist,
Sarah Erin Bye
in common? If we mean
Sir Roger Moore's
James Bond it so happened that they performed together at a concert in Oslo yesterday.
Sir Roger Moore reads the Gospel of Christmas at the Trinity church in Oslo, Norway
The concert took place in
The Trinity Church
in Oslo in a yearly event organized by
Barratt Due Institute of Music
. My niece is one of the talents attenting this institution having Soon-Mi Chung, who also performed yesterday, as her teacher.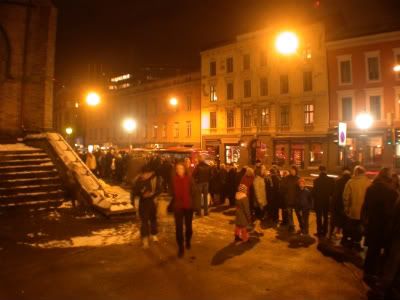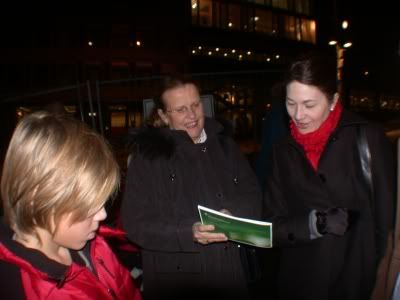 The concert was very popular and a long queue formed in front of the church. To the right are my nephew Leiv Egil, my mother and sister-in-law studying a concert program while freezing their feet off.
My mother is the kind of person who always, I mean ALWAYS, is ready to go before schedule. I'm as diagonally opposite as ever possible to that. Luckily my mother ruled last night and we showed up at the church a little less than an hour before the concert. AND WE STILL WERE NOT IN FRONT OF THE LINE. It would have been a disaster had I decided when to leave for this concert. We'd probably have missed the whole thing.
After finally being admitted inside we could not find a decent seat so the pictures I planned to take of my niece and Sir Roger Moore are not as good as I wished for. Nevertheless, we have some nice memories and the concert was excellent.
I particularly enjoyed
Wojciech Kilar's ORAWA
. It is a most extraordinary piece of music. It was my nieces first performance in this concert and definitely the most popular with the more than 800 people attending this Chrismas concert shouting and everything after they finished the piece.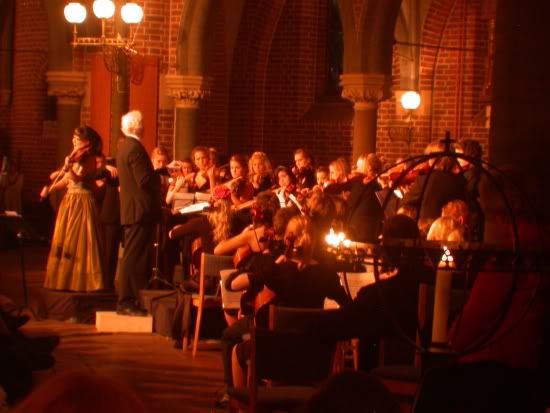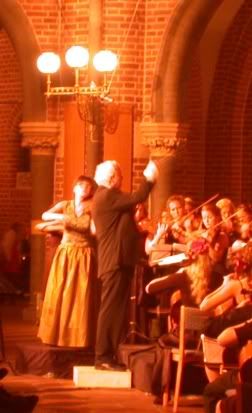 Soon-Mi Chung, my nieces teacher, plays Romance by Max Bruch. Hear her here
Now; what exactly did James Bond do in this concert? It is common to organize so-called Christmas concerts, in particular music institutions and schools do this every year. As Sir Roger Moore is very fond of classic music he had befriended my nieces violin teacher Soon-Mi Chung who runs the Barratt Due Institue together with her husband Stephan Barrat Due.
Sir Roger has written a book
and was in Norway to promote this book. In summary a perfect opportunity for him to both attend and participate in the concert. He doesn't play an instrument, to my knowledge at least, and reading
The gospel of Christmas
fitted right in the program of a Christmas concert.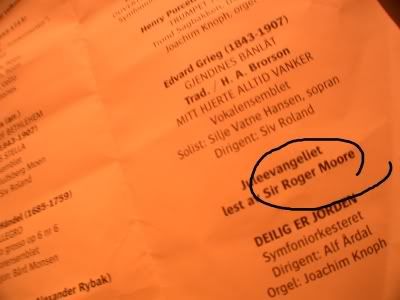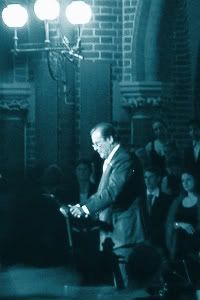 The concert program was excellent spanning many genres. Sir Roger Moore reads the gospel of Christmas and also exposes his good sense of humor when a kid shouts out loud in the midst of the reading.
Sir Roger Moore has a very pleasant voice well fitted to read the Christmas gospel. I was a bit surprised actually. I was also astonished by how old our famous action hero 'James Bond' had become. 81 year old is he now but although you have a hard time picturing him 'tidying up the mess' as James Bond did and does, he is in pretty good shape.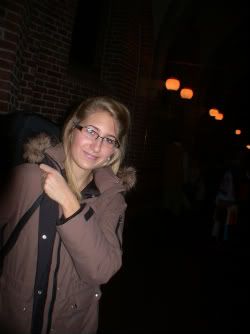 My brother Jan Petter is trying to act like his teenage daughter. Here he believes he is hitting a pose just like Sarah-Erin. You'll be the judge. :-)
A concert like this is very demanding on the musicians and although happy, my niece was ready to chill out after the concert. To put it mildly.
Sarah-Erin is really happy the long day is over. She truly enjoyed performing with Sir Roger Moore, though.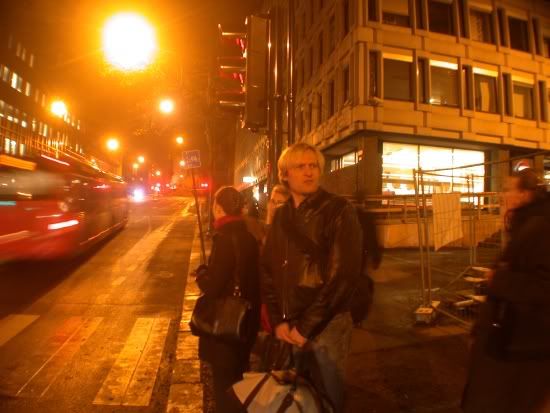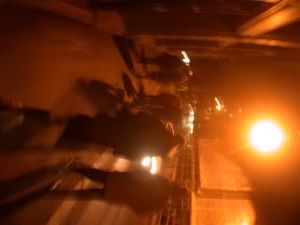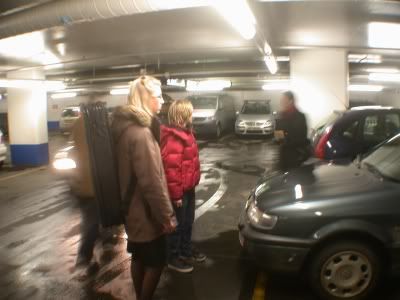 After the concert in the Oslo night.